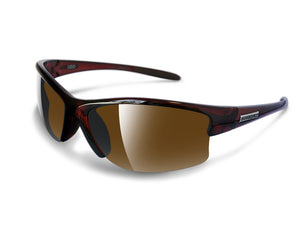 Lightweight and comfortable, the LIDO sunglass has a full wrap design but in a half rim style. This design makes for a ergonomically protective lens design.
The suns rays are blocked from each angle.
Polarized lenses offer maximum UVA and UVB protection.   Ideal for outdoor enthusiasts.
Perfect for all your outdoor activities like, Fishing, Boating, Sailing, Golfing, Motorcycles, Driving, Hiking, Jogging, and Camping.
PRODUCT DETAILS
Featherlight, Half Rimmed Plastic Frame with Rubber Tips and Nose Pads for Performance and Comfort
Polarized plastic lens with 100% UVA & UVB protection, eliminates glare from Windshield, Water and Road Surfaces.
Compliant with FDA Drop Ball Impact Requirements and meets ANSI Z80.3 Eyewear Standards
Includes a Drawstring Nylon Pouch for Your Convenience and Your Frames Protection.