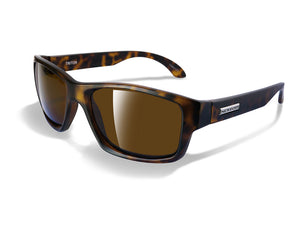 The TRITON sunglass is an update to the traditional wrap style. This flatter lens design is ideal for everyday wear.  

Lightweight and casual, the classic coloration of the TRITON is flattering on most everyone.
Polarized, plastic lenses prevent eye strain during highly bright days, while the lenses also
enhance vision during low light days.
PRODUCT DETAILS
Polarized plastic lens with 100% UVA & UVB protection eliminates glare from windshields, water and road surfaces to reduce eye fatigue and provide protection against the sun's harmful rays.
Compliant with FDA Drop Ball Impact Requirements and meets ANSI Z80.3 Eyewear Standard
Includes a Drawstring Nylon Pouch for Your Convenience and Your Frames Protection.